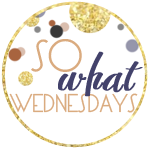 Today I'm linking up with So What Wednesday over at
Life After I "Dew."
This is a fun linky party where you list all the things you're saying "So what?!" about this week. So here goes nothing! This week, I'm saying SO WHAT if...
It's the day before Halloween and we still haven't carved our pumpkins.
I gave up on potty training after a month (A MONTH) because my daughter has a bladder of steel.
I have so much fabric that I could be considered a hoarder.
We're having family photos taken on Saturday and I still have no idea what I'll be wearing.
I lied to my kids when I said I was throwing away the toys they didn't pick up.
I'm in the middle of 3 separate sewing projects and 4 different books and instead of working on either, I play Angry Birds.
What are you saying "so what?!" about today?