I made a major blunder last week when I ordered new Roman shades for the doors in our kitchen... they were too short! I ordered them from
Window Blind Outlet
and got a fantastic price, but I wasn't so careful about measuring before placing my order. In my defense, the shades I ordered only came in one length... four inches shorter than my window. I just assumed that shades made for doors would be a standard length. I assumed incorrectly.
Anyway, the shades arrived and looked fabulous until we hung them up and realized my mistake. So then I faced a dilemma... to send them back and try to find another set, or to make them work somehow.
Obviously, I decided to make them work! Back when I recovered our
dining room chairs
, I had ordered the fabric with the same print in two different colors (intending to eventually recover our barstool cushions too). This lovely grey fabric had been shoved into a bin to be used when I got around to it. So I pulled it out and decided that the shades needed it more than the barstools did.
If you are going to attempt a project such as this, please consider the following things that I learned in the process:
If you're altering shades for windows that are side-by-side, be careful to match up the print.
Measure thoroughly before you start so you don't waste fabric.
Roman shades have stiff slats that are not easily maneuvered through a sewing machine. Be patient and make sure you have some space around you when sewing!
Ultimately, this project was pretty simple and I love the results. I figured out how much fabric I wanted to add to the bottom of the shade, cut two strips with matching print, hemmed all sides to the correct size, then sewed it to the bottom of the shade, just above the bottom slat. I did the same on the valance.
I love that the grey and white print breaks up all the white of the doors and the shades. And these shades really are a great quality for the price!
Have you ever taken one of your blunders and come up with a creative solution? I'd love to hear about it!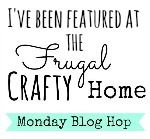 {Linked on
Carrie This Home
,
Sew Can Do
,
Uncommon Designs
,
Sumo's Sweet Stuff
,
All Things Fee
,
Serendipity and Spice
,
DIY Home Sweet Home
,
This Gal Cooks
,
Be Colorful
,
I Should Be Mopping
,
Craft-O-Maniac
}