As I've mentioned in a
previous post
, I am participating in a Quilt Along organized by Jill from
Create.Craft.Love.
and Sarah from
Becoming Martha
. The actual quilting has not started yet, so if you are interested in joining, now is the time. Click here to learn more: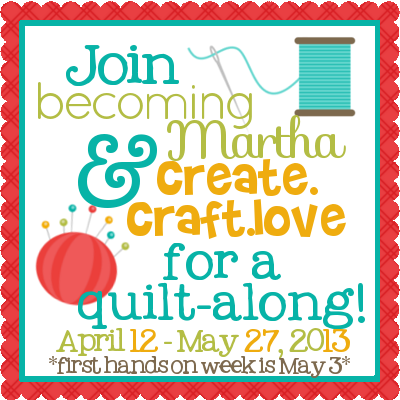 We've spent this week gathering our supplies, including what may be the best part: choosing fabric! I love fabric shopping more than any other kind of shopping (unless you count dessert shopping). So I was pretty excited to find the perfect fabric to make a quilt to coordinate with Violet's current room, but not be too babyish for her to use for years. I chose purple as the main color because the wooden letters hanging on her wall are done in purple. I also wanted non-girl specific colors included, which is why I chose green and orange as my secondary colors. There's also yellow and blue in the mix on the patterned pieces, so hopefully it will not end up too purple-y for Violet (who seems to prefer pink these days -- a fact I chose to ignore when making my selections).
Without further ado, here is the fabric I selected:
I chose
Riley Blake's Dress Up Days
collection in purple and orange. The back of the quilt will be solid grape, it will have solid green stripes, and a bit of orange mixed in. I am so excited to see how it turns out!